Welcome to our Truth Tellers page!
We will present the best public figures who don't mince words, while telling it like it is. We recommend everyone follow them to be empowered with the truth!

Lauren Boebert
Congresswoman, CO-03
Lauren is not your average GOP representative in our house chamber... She is one fearless Truth Teller and a rising America First star! Unlike weak Republicans who capitulate to the Dems' lies, and propaganda, she knows exactly how to respond and dismantle their false narratives, turning them right back on them! It comes as no surprise why she likes to call herself a "RINO hunter." Every Republican representative should take note, and learn a thing or two from her. Follow her on Truth Social and Twitter, and let's get behind and support her in any way we can! THANK YOU LAUREN, FOR BEING A STRONG VOICE FOR THE SILENT MAJORITY!

As an example, watch Lauren take the Democrats to the ring on Gun Control!
Mark Levin
Mark Levin is a Constitutional Conservative, Great Scholar, Syndicated Talk Show Host, Author of many best selling books and one of the best patriots America has been blessed with. Served in the Reagan Administration at the DOJ, he knows the ins and outs of our government, first hand. His show runs weekdays 6pm-9pm EST on many talk radio stations our there and you can also tune in to his live stream and podcasts right HERE.
Please watch & share this video, where Mark is sounding the alarm about Marxism, that is taking over our country right now! We must all be informed, empowered and uproot it from our society ASAP if we want to keep our rights, freedoms and the American way of life. Mark is our BEST.
Christopher Rufo
Writer, filmmaker, and senior fellow at Manhattan Institute.

An intelligent young man, documenting and exposing the phenomena of critical race theory, homelessness, poverty, and other afflictions. Watch this video and get the real truth about Critical Race Theory and who's behind it. What a truth teller Chris is!
Peter is an American political consultant and writer, New York Times best selling author of the books Secret Empires and Profiles in Corruption. He is the president of the Government Accountability Institute and runs an excellent website called The DrillDown, where you can find all the corruption he has unveiled. But most of all, he is a fearless investigative journalist, one of so very few who is not only digging for the truth, but also exposing the bad actors that have been undermining our country for many years. Recently, Peter has exposed CORRUPTION AND TREASON by the Clinton family, as well as the Biden family. His work should make national headlines, but since we have no genuine mainstream media, it is up to us to pass along his findings and exposes!

1/23/2022:
Peter has published a new book called "RED HANDED" where he exposes how American elites get rich helping communist China win!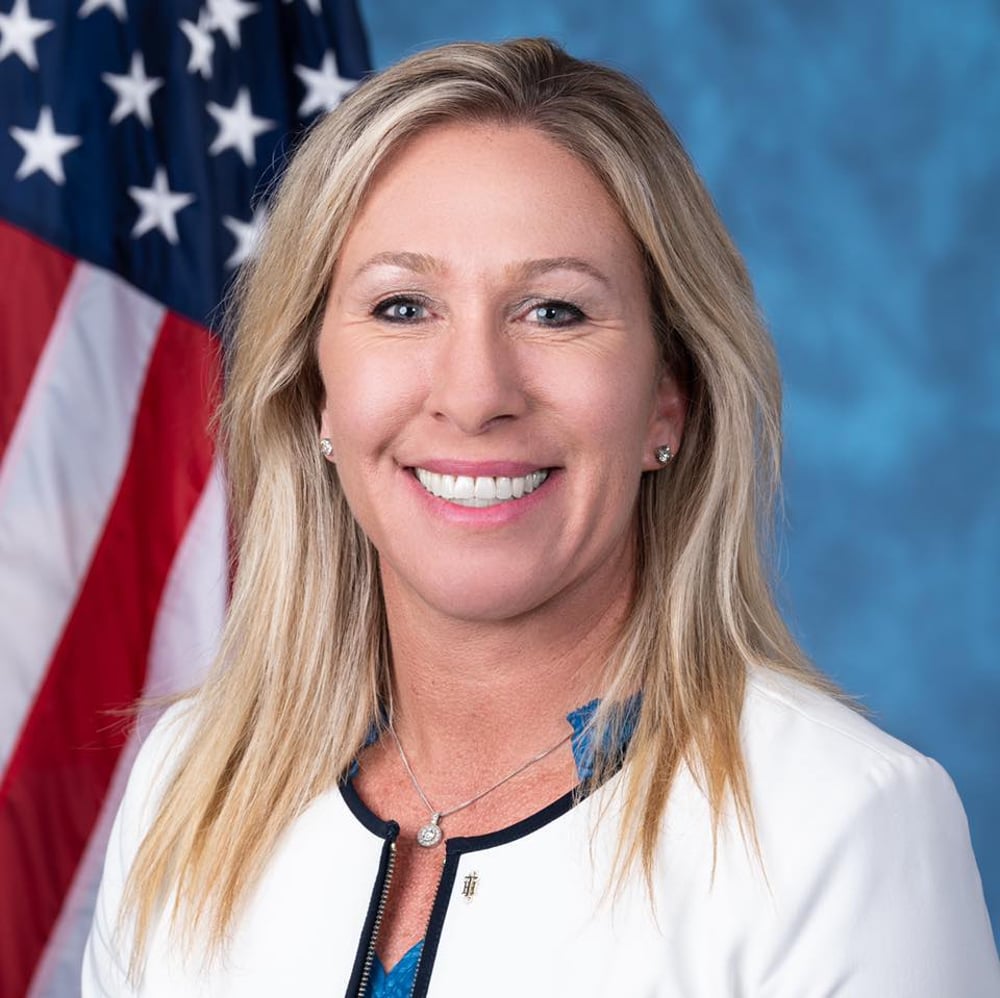 Marjorie Taylor Greene
Congresswoman (GA-14)
Marjorie is a newly elected Congresswoman from the great state of Georgia. She is a fearless truth teller and she is an outstanding voice for tens of millions of Americans just like you and us, who fully understand our current state of affairs, from the election 2020 fraud of the century, to the takeover attempt by the radical left on America. The vast majority of the American People DO NOT LIKE what they see happening. A dysfunctional, inept and fraudulently elected President and Vice President, An out of control Border crisis, Covid restrictions, War on Law Enforcement, Rising Crime and Gas Prices, The Green New Deal, Critical Race Theory and the Indoctrination of our Children. Marjorie is one of very few that calls it all out, loud & clear!

CLICK HERE to see one of her best tweet threads yet! If you are a twitter user, please give her a like and retweet her message, as twitter is trying to suppress her. Thank you.

Ron DeSantis
Governor of Florida
Contrary to what the Radical Leftist media is trying to push, Ron DeSantis is a governor that millions of Americans outside the state of Florida would LOVE to have! He has shown outstanding leadership in protecting people's rights, freedoms and jobs, rather than coercing them into shutdowns. He protects parental rights as well as little children at school from mask mandates (as there is no science that shows they are somehow dangerous to adults.) He also banned the teaching of Critical Race Theory in public schools in the state of Florida, because all it teaches is self-hate and division in the minds of innocent young students rather than making them better at reading, math and science. He does all of that simply by TELLING THE TRUTH! Thank you, Governor, for being an exemplary leader through these troubling times!
Brigitte Gabriel
Brigitte Gabriel is a leading commentator on politics, culture and national security. She is a legal immigrant to America born in Lebanon. Being a Christian, she survived war in the Middle East living in an 8x10 underground bomb shelter from the age of 10 until 17 years old. Saved by Israel, she knows first hand what Islamic Terrorism is and what is the agenda that's driving these heinous terrorist. Brigitte is not afraid to speak loud and clear, and warn us here in America, of what might happen here if we are not vigilant (and sure enough, we had 9/11.)
Brigitte runs an outstanding organization called "ACT for America" where you can not only find invaluable information, but also TAKE ACTION, sign petitions and send letters to your representatives with a click of a button. The letters are already crafted for you! We encourage EVERYONE to visit her website, get informed and take easy actions to start making a difference!


"We have a buffoon in the whitehouse! Joe Biden is taking orders from the Taliban!"
See Brigitte's latest barrage of truth bombs in the video below! Thank you Brigitte for being an outstanding Truth Teller!
Tucker Carlson
The "Tucker Carlson Tonight" show can be seen on the Fox News Channel, Monday-Friday at 8pm EST. On his show, Tucker constantly brings us very informative stories and truth bombs the mainstream media will DELIBERATELY not cover!

In a recent video from his show, aired on 6/29/2021, Tucker is unveiling how the NSA spies on him, personally! This should alarm every one of us because these are the kinds of things that are done in communist and dictatorial regimes! Thank you Tucker for being an outstanding TRUTH TELLER!

NOTE: YouTube is censoring his show form that day! We will try to bring it back to you here as soon as we can.
🇺🇸 R.I.P. Rush Limbaugh 🇺🇸
Dear Rush:
America's Anchorman,
Talent on loan from GOD,
The Doctor of Democracy,
The Big Voice on the Right...
So many loved you, millions and millions of us couldn't wait to tune into your show at noon EST, and listen to your words of wisdom and entertainment for 3 straight hours. Your brilliant mind kept us all on the cutting edge of news, information and commentary, always making the complex understandable. You preached individual freedom and liberty every day, You taught us how to love our country like no one else could ever do. You wanted everybody to prosper and succeed and saw potential in each and every one of us. Your contributions to America and your achievements are unparalleled. You will be greatly missed...
R.I.P. American Truth Teller & Hero!